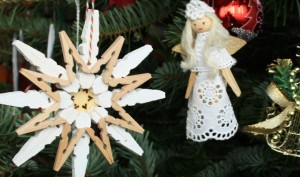 Crafting with Clothespins
Sat, 18.12.2021, 14:00 – 16:00
Stars and Angels
---
Are clothes pegs there to only hang up laundry? In this course we will use them in a completely different way. Make the most beautiful stars and angels for Christmas out of large and small wooden brackets. You can of course hang these on your Christmas tree.
Course fee € 16 including material and supervision
For children from 5 years
Entry to the exhibition is included in the course fee. Come a little earlier and be inspired by the works of art!
Registration at 02853/72 888 or info@daskunstmuseum.at
Book your workshop tickets online!
All courses are held in compliance with the currently valid Covid19 prevention guidelines. Please inform yourself in good time about the respective measures.